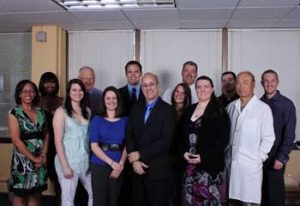 At Advanced Medical of Twin Cities, we understand the need for comprehensive, holistic healthcare services. We understand that every patient needs something different based on their health concerns. That's why we've made it our mission to offer our patients everything they need all in one place. At our clinic, you'll have medical doctors and chiropractors at your disposal, as well as massage therapists, nutritionists, and acupuncturists. We address your health care using a team approach, in our state-of-the-art health facility located in Golden Valley, MN.
If you're looking for a chiropractor, or if you're not sure if chiropractic is right for you, we can help. You can meet with a medical doctor first to discuss your options. That way, you'll know you're being seen by both medical and natural medicine professionals. Then, you can discuss what form of treatment is right for you, and you can get those treatments right here!
How Do Chiropractic Adjustments Work?
If you've never been to a chiropractor, you might not fully understand how chiropractic works. Chiropractic isn't simply cracking backs, though that's the impression you could get without more information. Chiropractic is actually the manipulation of the spine, including the vertebrae and discs. Your spine affects your entire body's comfort and movement. Misalignment of the spine can cause issues in your joints, extremities, shoulders, neck, and hips – and of course your back! When your vertebrae or discs are misaligned, it causes muscular, nervous, and skeletal tension throughout your body. To relieve tension, chiropractors make slight adjustments to your spine's vertebrae, aligning everything from your neck to your hips.
Benefits of Chiropractic Adjustments
The first and major benefit of chiropractic adjustments is that it relieves that tension buildup. But there are several benefits that you can receive from chiropractic, if you need it, as well! The benefits of chiropractic spinal adjustments can include:
• Musculoskeletal Condition Symptom Relief
• Arthritis Pain Relief
• Headache and Migraine Relief
• Injury Rehabilitation, including Sport Injuries, Work Injuries, Personal Injuries, and Auto Injuries
• Whiplash Treatment
• Pregnancy Pain Relief
• Chronic Pain Relief
Whether you're looking for any of these types of relief or have another reason for seeking chiropractic help, we're here. Our medical doctors and chiropractors will work together to see that you get the best possible treatment. Whether you're injured, pregnant, suffering from a condition or ailment, or otherwise, we'll know if chiropractic is right for you.
Get Treated by Medical Doctors and Chiropractors All in One Place!
With Advanced Medical of Twin Cities, you don't have to search around for a chiropractor and a medical doctor. You can find them both in one place – at our place! We have medical doctors and chiropractors working side by side to provide the best of both types of medical treatments. You'll get a truly holistic healthcare experience and see how medical and natural medicine doctors work together. Call us today at (763) 541-1280, and find experience the ease of having everything you need in one place.