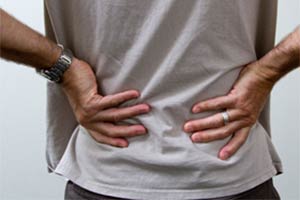 Are you constantly having to cancel on family and friends because of the amount of back pain you are experiencing? Is it difficult to get out of bed in the mornings? Trying to manage everyday life with constant back pain can be overwhelming. The good news is that it doesn't have to be this way. At Advanced Medical of Twin Cities, our medical professionals in Golden Valley, MN specialize in providing our clients back pain relief through natural treatment options.
Finding the Source of Your Pain
For individuals under the age of 45, back pain is the leading reason for limited activity. No one realizes how often they utilize their back in a given day until they are dealing with back pain. This type of pain can make even the simplest activities hard to accomplish. Your back pain may have stemmed from you bending down to pick something up, or it could have occurred because of other sources such as:
Unconditioned Muscles
Overworking Muscles
Tension
An Unbalanced Spine
Arthritic Changes
Posture Issues
Falls
Pregnancy Trauma
Auto Accident
Many More!
Chiropractic Helps Back Pain
One great way to achieve natural relief from your back pain is through chiropractic adjustments. Our chiropractors on staff will work to get your spine and the rest of your body back into proper alignment. These adjustments will help relieve tension and pressure that may be causing your significant back pain. No matter the age, chiropractic care is an effective way to treat back pain. This holistic treatment option can also help speed up your recovery process as well.
Massage Therapy Benefits
Another treatment method that our staff regularly incorporates into back pain treatment plans is massage therapy. We have certified massage therapists on staff that have experience in pinpointing the specific area where the back pain exists. After our thorough evaluation of your back, we'll develop a massage therapy treatment plan designed to provide the relief you've been seeking for so long. Take advantage of our injury rehabilitation massage, sports massage or therapeutic and pain relieving massage options for your back pain relief needs.
Don't go another day letting your back pain get the best of you. Instead, schedule an appointment with our medical professionals at Advanced Medical of Twin Cities. We have a passion for holistic treatment options, and we would love to create a personalized back pain relief treatment plan for you. If you are in the Golden Valley, MN area, give us a call today at (763) 541-1280.