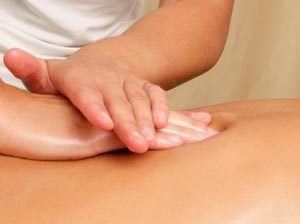 Dealing with a strain, sprain or other soft tissue injury? Unless you've spent a lot of time studying medicine, you may not know the ways to identify soft tissue issues that you may be experiencing, and that's ok. Soft tissue injuries occur when damage happens to your skin, muscles, tendons or ligaments. Thanks to our dedicated medical professionals at Advanced Medical of Twin Cities, we specialize in identifying soft tissue issues for our patients of all ages so that you don't have to.
Set Up a Soft Tissue Evaluation
All that you need to do is set up a soft tissue evaluation with our medical team and we'll handle the rest. We take as much time as needed to truly identify the issues that you may be dealing with. Whether you're struggling with a sprain, swelling or nagging pain that will not go away, our soft tissue evaluation will identify the root of your injuries.
Customized Soft Tissue Treatment Plan
Once we've completed your soft tissue evaluation, our medical staff will develop a customized soft tissue treatment plan that focuses on providing pain relief naturally. Your treatment plan will be specifically made based on your own soft tissue symptoms. We'll incorporate holistic treatment options that will focus on strengthening your body so that you can heal naturally from your soft tissue injury.
Common Treatment Options for Soft Tissue Issues | Chiropractic, Acupuncture & Massage Therapy
Depending on your need, we may recommend various combinations of medical treatment to treat your soft tissue issues. These treatment options include the following:
Chiropractic Treatment – This popular treatment method utilizes spinal adjustments and manipulations to help get the spine back into proper alignment. In turn, your body is able to experience relief naturally and much more quickly.
Acupuncture – Don't be scared of this treatment method simply because needles are involved. These tiny needles used are virtually painless. Once your specific injury location is identified, we'll use acupuncture needles to provide natural relief from the soft tissue injury.
Massage Therapy – More than just a way to relax, our massage therapy treatments will help get you back to full strength in no time.
At Advanced Medical of Twin Cities, we not only identify your soft tissue issues, but we also treat them as well. If you've been struggling with an injury that is causing you pain, it's time to set up a soft tissue evaluation with our proven team. Give us a call today at (763) 541-1280 to schedule an appointment with our holistic treatment staff.