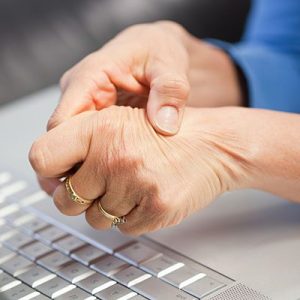 Arthritis is a painful condition that can be stressful and emotionally taxing to try to treat. Not everyone finds a perfect solution to their arthritis pain, and many people live with their pain every day. Fortunately, there are arthritis pain relief and pain prevention methods that you might not have considered before. At Advanced Medical of Twin Cities, our arthritis doctors use natural arthritis pain relief methods, including spinal adjustments, massage therapy, and exercises to help patients suffering from arthritis find relief and prevent arthritis flare-ups. Whether you're looking for a more effective treatment method for your arthritis, want a natural, medicine-free arthritis treatment method, or you haven't found a way to treat your arthritis that actually works, we're here to help by understanding your pain and your lifestyle so that we can provide you with pain relief solutions that actually work.
Natural Medicine-Free Arthritis Treatments
One of the largest benefits of working with an arthritis chiropractic specialist is that we use only natural arthritis treatment methods. That means no surgeries or medicines to treat your pain. It also means that we're not simply treating your pain with pain killers; we're treating your arthritis at its source through adjustments and massage, relieving pain through targeted treatments in specific areas of your body.
Chiropractic Spinal Adjustments for Arthritis
Understanding the causes of arthritis pain is key to understanding how chiropractic spinal adjustments help relieve arthritis pain. When you have arthritis, your pain is often caused by and exacerbated by skeletal, muscular, and nervous tension in the body. Skeletal misalignment's, typically in the form of "slipped discs," or vertebrae that are slightly out of alignment, create tension in the muscles and nerves throughout your body. So if your spine isn't properly aligned, it can cause pain in your neck, back, shoulders, hips, joints, and extremities. This can mean that your misaligned spine is worsening or actually causing your arthritis pain, and an adjustment can help relieve that pain.
Arthritis Massage Therapy
Relieving nervous and muscular tension is the main goal of massage therapy, as providing this relief allows us to treat the source of at least some of your arthritis pain; tension. With varying types of massage, we can offer you the best types of massage for arthritis and focusing on areas of your body that are problem areas for you when it comes to arthritis pain.
Arthritis Physical Rehabilitative Treatments Exercises
If you need ways to keep your body moving and prevent bouts of arthritis pain flare-up, we can help you get into an exercise routine that helps prevent and relieve arthritis pain. We'll create an exercise plan that takes into account your lifestyle, severity and type of pain and limitations so that you know your routine is right for you. To start finding natural arthritis pain relief methods that work for you, call 763-541-1280 today to talk to Golden Valleys best arthritis doctors located at Advanced Medical of Twin Cities.