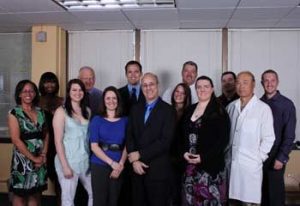 Looking for a chiropractic clinic in Golden Valley, Minnesota? At Advanced Medical of Twin Cities, our goal is to encourage optimal health and reduce your disease risk by providing holistic, natural care. Offering quality chiropractic care and adjustments is just one of the many ways we aim to provide complete medical and physical health care to our patients. For any and all chiropractic care services in Golden Valley, Minnesota, Advanced Medical of Twin Cities has got you covered.
What is Chiropractic Care?
The practice of chiropractic care recognizes that there is a relationship or connection between the body and its structure to your function and health. A chiropractor is a person that not only studies their connection but helps to provide natural, holistic treatment based on the manipulation of your nervous and musculoskeletal system.
Chiropractic Spinal Adjustments & Manipulation
Chiropractic manipulation is something that we do in our office quite often. We believe that through spinal adjustments and manipulation, treatment and healing can finally begin to occur. Our goal with chiropractic treatments is to restore functions that may have been injured or lost and let people begin to heal naturally, avoiding invasive surgery or any unnecessary medications that would otherwise be warranted.
Our Chiropractic Clinic
Our clinic has seen and successfully treated a variety of physical ailments throughout Golden Valley, MN. From motor vehicle accident injuries to treating expectant moms with hyperemesis and nausea, we believe that chiropractic care can help you heal. Not only do we treat pain and other various ailments, we also like to focus on overall wellness for our patient. You don't have to be in pain to make a visit! Chiropractic care is open to everyone as it can greatly boost your immune system, prevent future injuries from happening and help you maintain proper bodily function. Below is a list of the most common physical ailments we see and treat at our practice:
Auto Injuries
General Injuries
Back Pain
Neck Pain
Pregnancy symptoms
Headaches
Stress
Arthritis
Work Related Injuries
Nutritional Issues
And so much more!
Ready to learn more about our Chiropractic Clinic in Golden Valley, Minnesota? We want to get you back on your feet and feeling like yourself once again. Call Advanced Medical of Twin Cities today and let us show you what we can do for you. For more information about our chiropractic clinic, call today (763) 541-1280.