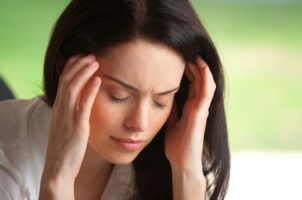 Headaches are a pretty universal disruption of your overall quality of life. The causes of headaches are almost endless, but many are caused by changes of the seasons, changes in the weather, changes in barometric pressure, stress at work and at home, and spending too much time in front of a computer screen. The services offered by Advanced Medical of Twin Cities in Crystal, are ideally suited to provide you with relief from persistent headaches and prevent them from beginning in the first place.
Chiropractic Treatment For Headache Relief Crystal
Our staff is very confident in our ability to reduce the impact of headaches on the lives of our clients. We may not have the ability to alter environmental variables, such as pollination and relative humidity, but we can shore up your defenses against the impacts that those phenomena have on you. For example, massage therapy breaks up lactic acid in muscle tissue, releasing the waste product into the bloodstream. Massage stimulates the body's immune system, which attacks the freed, circulating waste material, thus strengthening the immune system itself. A stronger immune system is better able to ward off infection, but the immediate benefit is the familiar refrain of the vast majority of people who seek out massage: a general feeling of wellness.
It is not, however, just a feeling of wellness, but your body can also begin to strengthen its immune system and ward off headaches naturally. The chemical processes that occur during and after massage provide the body with a natural defense against headaches. Similarly, acupuncture stimulates the body's natural healing mechanisms, which can prevent headaches from occurring or reduce their intensity.
Headaches can also be caused by spinal misalignment, which can place added stress on the muscles of the neck and shoulders. That stress can lead to constriction of blood flow, resulting in headaches. By aligning the spine, pressure is taken off the nearby muscles and your headaches will be reduced. Massage therapy, acupuncture, and chiropractic adjustment are, in and of themselves, wonderful tools in regaining and maintaining health. When used in combination, especially on people with frequent headaches, they provide a powerful and natural means of headache prevention. They are also a welcome form of relief from headaches for people who cannot or prefer not to ingest over the counter pain relievers.
Non-Invasive Headache Treatment Crystal
The staff of Advanced Medical of Twin Cities located in Crystal, understands how disruptive headaches can be to your day. We are committed to working with you to identify the cause of your headaches so that we can then develop the most effective treatment plan to relieve the pain of your headaches. Call us at (763) 541-1280 to schedule an appointment.