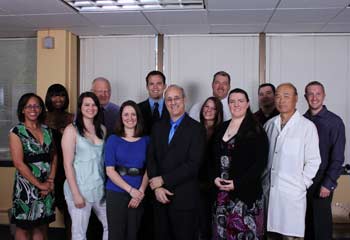 Are you suffering the aftermath of an automobile injury, a workplace injury? Or, maybe you have struggled with lower back or joint pain since your days of high school sports. While the injury may be months or years old, you may still feel the long term effects in your day to day life. Chiropractic care is a safe and effective treatment for many different types of injuries or health conditions including injuries after a vehicle accident, work injuries, sports injuries, falls, headaches, back pain, knee pain and can even boost your immune system and help prevent future injury. The team at Advanced Medical of Twin Cities offers a comprehensive approach to healthcare which includes chiropractic care, massage therapy, acupuncture, rehab, nutrition and general medical care to clients living in and around Golden Valley and St. Louis Park, MN. Our team focuses on providing complete medical and physical health care so that you can reach your optimal health goals.
Comprehensive Chiropractic Clinic, MN
Chiropractic Adjustments are done to correct misaligned bones and joints which put pressure on your nervous system, and results in an improper functioning body and very often pain. Chiropractic adjustments can relieve this tension and reduce both chronic and acute pain. Patients can feel relief with just a few chiropractic adjustments and the team at Advanced Medical will tailor adjustments to your specific need.
What sets Advanced Medical apart from other medical facilities? Our team of medical providers, rehab specialists, chiropractors, nutritionists, massage therapists and acupuncturists all work together, in one state of the art facility. This allows our team to treat our patient holistically and address unique and specific needs with a multidisciplinary approach. Our providers work together to come up with a personalized treatment plan for each of our clients to fully address their injury or health issue. We have been serving the Minnesota area for more than 35 years and have built our practice on providing the best possible care and improving each of our patient's health.
Chiropractic Services and More
So, if you live in the Golden Valley or St. Louis Park area and are looking for relief from an accident, injury, or other health issue, a chiropractic adjustment might be just what you need to begin your path forward toward optimal health. Call the team at Advance Medical of Twin Cities today at (763) 541-1280 to schedule an appointment. We offer a wide variety of financial plans so no matter what your budget, you can stay healthy when you partner with us.