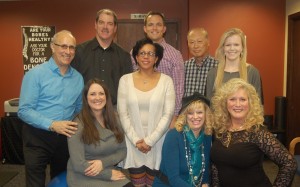 Looking for a chiropractic office in St. Louis Park, Plymouth or Golden Valley Area? Advanced Medical of Twin Cities is the perfect option for you. Our state-of-the-art facility offers holistic care and multiple different treatment options to help heal your aches and pains and get you back on track towards optimum health. Through combined medicine, chiropractic, exercise, and nutritional care, we work with patients to provide them with the highest quality of healthcare in a natural environment. Our Current patients have highly recommended us to their friends and family, and we are sure you will as well.
Chiropractic Care
When you really think about it, there are many different treatments that indicate the way to health is to center yourself and your body. What better way to do that than through chiropractic care? With two Doctors of Chiropractic at Advanced Medical of Twin Cities, our practice is assuredly a hands-on, drug-free approach to healthcare. We are trained in specific therapeutic and rehabilitative exercises so that whatever ailment you may be facing, we can help. Chiropractic care can be used for a wide variety of things. Headaches, backaches, car accidents, work injuries, arthritis, pregnancy symptoms, allergies, etc. You name it, chiropractic care can help to alleviate your pain. Through the manipulation and alignment of the spine, our Doctors of Chiropractic will help to alleviate your pain and help get you on the road to a full recovery.
Your First Visit
Like any medical professional, before any treatments can be done we must work together to figure out what's going on. When you visit Advanced Medical of Twin Cities, we will talk with you about your history and really get to know your issues. We will do a thorough examination and perhaps even order diagnostic studies to help us reach a diagnosis and cause of your pain. This will allow us to treat you appropriately. Once we know what is going on, we can find what services are most appropriate for you. Whether you need only chiropractic services or a combination of medical, chiropractic, and even massage therapy, we will offer you our expertise and help place you on the right path. We also like to give our patients a realistic picture of their treatment. Depending on the severity of the condition, as well as lifestyle and home care, you may only require a few treatments. Alternatively, if your condition warrants it, we may suggest multiple visits to give you the relief that you desire.
Whatever your reasoning for needing a chiropractor, we are here to help. If you are searching for a chiropractic office in St Louis Park, call our professionals today at Advanced Medical of Twin Cities. Open Monday through Saturday, contact us at (763) 541-1280.