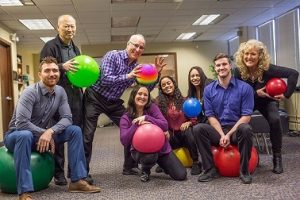 Looking for a medical professional around the Twin Cities area of Minnesota where your entire family can receive intergrated health care in one location, rather than having to build relationships with multiple providers? It is time to build a relationship with our team at Advanced Medical of Twin Cities and tap into our effective chiropractic care for the entire family.
Countless research has shown that chiropractic care is a great natural medical treatment option for all ages. Whether you are a child that has gotten injured playing your favorite sport or you are an older individual struggling with conditions like arthritis, chiropractic care can provide plenty of benefits. Through our chiropractic adjustments and manipulations, our chiropractors on staff will work to get your spine back into proper alignment. From there, your body will be able to recover more quickly, heal naturally and the ongoing pain you've been dealing with will become more manageable!
Our goal is to get your body back to functioning at full strength. We don't want to just treat your current condition, we want to focus on helping you maximize your health for the long haul. Additional benefits that you'll be able to experience through our chiropractic treatment includes reduced stress, improved circulation, heightened energy levels and a stronger immune system. These benefits are all achieved without having to rely on any pain medication or an invasive procedure, which is what attracts many of our clients.
Individualized Treatment Plans
Our experienced team of doctor's has a passion for meeting our clients where they are on their health journey. For this reason, every treatment plan that we develop for our patients is different. We place a strong emphasis on your initial visit so that our staff can spend time getting to know you, to understand the issues you are dealing with and to develop a personalized chiropractic treatment plan just for you. You just cannot find this type of personalized medical treatment anywhere else!
When searching around the Twin Cities of Minnesota for medical care, why not choose a practice that can take care of the whole family? At Advanced Medical of Twin Cities, that is exactly what we do! Through our chiropractic services, we'll help your family achieve a healthy lifestyle now and in the future. To learn more about our chiropractic treatments or to schedule your initial consultation for you and your other family members, give us a call today at (763) 541-1280.