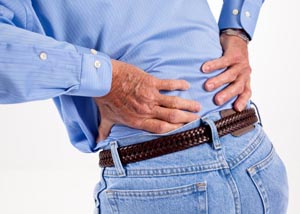 At Advanced Medical of Twin Cities, we have seen many patients walk into our clinic with their face looking down at their toes. We've seen patients holding their backs with their hands as they shuffled from their car into our doors. We have seen patients in tears over the pain that their lower back has been causing them. Likewise, we have seen patients walk out of our doors with their heads held high, walking swiftly to their car, and crying with tears of joy for finally being able to get some relief. At Advanced Medical of Twin Cities, we are all about promoting health and healing. If you've got lower back pain in the Golden Valley, St Louis Park, Minnetonka, or Plymouth, MN area, come check us out soon!
Back Pain Problems
It is really unfortunate that some people look at lower back pain as a sign of aging. This is just not the case! Aging does not have to be painful and in all honesty, back pain can happen at any age. So if you are even slightly experiencing back pain, don't let it get bad! Come on in. Back pain is the number one reason that people under the age of 45 have written doctor's notes that say they must limit their activity. Whether you are young or old, whether this is chronic pain or a new injury, whether you've been in a car accident or you were just sitting on your couch when it began, your back pain matters and it should be looked at! Here are some of the most common injuries we see in our clinic:
● Overexertion of unconditioned muscles
● Tension in the back
● Stress on a misaligned spine or pelvis
● Arthritic changes
● Postural strains
● Falls
● Trauma or strain due to pregnancy
● Unhealthy spinal discs
Chiropractic Care for Back Pain
So when you have lower back pain and can't seem to find relief, consider chiropractic care. Through spinal manipulation, massage, and other techniques that we incorporate within our practice, our goal is always to help you find the maximum amount of relief possible and reduce the chances of the pain reoccurring.
If you are in the Golden Valley, St Louis Park, Minnetonka or Plymouth, MN area and you have been suffering from lower back pain, it's time to get help. Contact Advanced Medical of Twin Cities today. We are here to help you heal. Call us and make an appointment at (763) 541-1280 today!