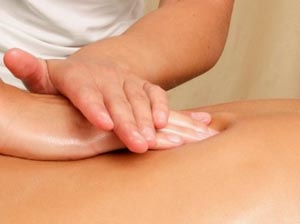 Massage provides numerous therapeutic benefits for the body and mind and can be a valuable tool to help treat various health conditions. The certified massage therapists at Advanced Medical in the Twin Cities have diverse training in several different techniques. A consultation with their massage therapists will determine the appropriate technique for your healing.
Massage can significantly reduce muscle tension and chronic pain through the act of applying a certain pressure on the body. By applying various techniques, massage can increase blood circulation in areas causing discomfort and can stretch out the sore tissue that causes feelings of tightness. Combined, this can cause stiff muscles to relax and can alleviate pain as a result.
Headaches And Migraines
It is estimated that 36 million people are affected by migraines nationwide. Targeting specific trigger points with massage, such as within the neck, can cause significant improvements, as it can help lower the overall pain one experiences.
TMJ Disorders
The temporomandibular joint (TMJ) within the jaw can become very tense for a variety of reasons. A TMJ massage can be an extremely effective tool to help treat this pain. A massage therapist can address the cause of pain within the jaw and upper cheekbone area, and work with the jaw muscle to decrease inflammation, improve circulation in that area, and increase healing.
Arthritis
Massage can directly target the pain that arthritis causes and can help improve overall joint motion and muscle flexibility. Those with rheumatoid arthritis, for example, can benefit from massage that specifically targets the increase of circulation. Seniors especially benefit from massage, as it can loosen tight muscles, improve circulation, and treat difficulties with mobility or physical pain caused by conditions like arthritis.
Stress And Anxiety
Stress can cause physical pain in the body and can lead to muscle tension and other physical concerns. Massage therapy boosts dopamine and serotonin levels in the body (mood-stabilizing hormones) which leads to feeling happier and more relaxed as the body lowers cortisol levels that increase when we feel stressed. Therefore, massage can be an effective tool to lower and manage stress levels, while at the same time, improve the physical symptoms that stress can cause.
Certified Massage Therapists On-site
The search for the right medical practice to help manage your pain and injuries should stop at Advanced Medical of Twin Cities. We take pride in helping patients achieve natural pain relief, while also strengthening their bodies naturally. Through effective massage therapy treatment options, certified therapists work diligently to get you back to full strength. To learn more about trusted massage therapy treatment options or to schedule a comprehensive consultation, call (763) 541-1280 today.