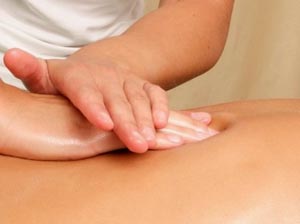 If you're looking for a massage therapist near you to help relieve tension and reduce stress, your best option is to find a professional massage therapist and skip the 30-minute mall massage. When you see a professional massage therapist, you'll feel the difference; with expertise in different types of massages, experience administering a wide range of massages to combat varying issues in the body, and training to be sure you get the best massage possible, you won't be disappointed with a professional massage therapist at Advanced Medical of Twin Cities. With massage therapy for Golden Valley, St. Louis Park, Minnetonka, Plymouth, Edina, Richfield and Bloomington, MN, there's no reason for you to look any further for a great massage that's capable of providing physical and mental relief and relaxation.
Benefits of Massage Therapy
If you've ever had a massage, you're likely familiar with the most basic benefits of massage therapy. However, if you've never had a massage with a professional massage therapist at a chiropractic center, then you likely haven't experienced all of the amazing benefits massage therapy has to offer. For many patients we see, massage therapy can have many positive effects just during one session, including:
Reduced nervous and muscle tension

Reduced muscle spasms

Lowered physical and mental stress

Improved circulation

Increased lymphatic drainage

Reduced pain

Increased energy
All of these positive effects of massage therapy are possible for one reason: massages are capable of reaching several of your body's systems. This includes your body's muscular system, nervous system, respiratory system, circulation system, and lymphatic system. Together, that means full-body wellness.
Types of Massages We Offer
When you come to our chiropractic center, you'll have more than a simple massage waiting for you. You'll have a massage session that's tailored to your needs, which may include:

Injury Rehabilitation Massages: Helps patients recover faster from injuries, improving range of motion, increasing blood flow, reducing inflammation, and relieving nervous and muscular tension.

Sports Massages: Used to speed up recover time following a sports injury or to help prevent sports injuries in the future. The type of sports massage you receive will depend on the reason for your massage.

Therapeutic Massages (Pain Relieving Massages): These massages target specific areas of the body, including the neck, back, shoulders, and extremities. Therapeutic massages are intended to relieve pain and relax the muscles, which results in improved circulation, reduced stress, and a release of toxins.
If you're interested in professional massage therapy services, contact Advanced Medical of Twin Cities today. Our massage therapists serve patients in Golden Valley, St. Louis Park, Minnetonka, Plymouth, Edina, Richfield and Bloomington, Minnesota, and we're only a phone call away. To start your massage therapy appointments today, whether it be for injury recovery, relaxation, or otherwise, call us at (763) 541-1280, and start healing your body and your mind.