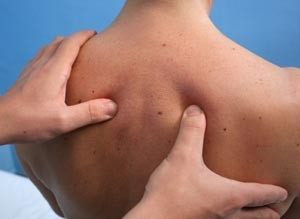 Massage therapy is more than a way to take a break from the hustle and bustle of one's busy schedule. In fact, there are quite a few benefits that massage therapy can provide. If you've struggled with nagging pain that simply will not go away, it is time to stop relying on pain medication that only provides temporarily relief, and start relying on effective massage therapy techniques. If you are in the Golden Valley or Plymouth, MN area, look no further than our experienced massage therapists at Advanced Medical of Twin Cities. We offer a wide variety of massage therapy techniques that will provide you natural pain relief once and for all.
Effective Sports Massage
If playing sports is your passion, then you've likely experienced a sports injury at some time in your career. Nagging injuries can keep you off the court or field. So, let our staff perform our effective sports massages to help your body get back to 100% strength. Our sports massages are designed to speed up the recovery process and our massage specialists may even be able to get you back to performing better than you were prior to your injury.
Top Notch Rehabilitative Massage
Injuries can occur almost anywhere. Whether you've recently been involved in a car accident, or you have fallen on uneven asphalt, it is important to not ignore your injuries. By partnering with our massage therapists at Advanced Medical of Twin Cities, you can tap into our top notch rehabilitative massage option which will focus on the injured area. In turn, you'll see a boost in your recovery timeframe.
Pain Relief Massage
Dealing with some muscle tension or pain that is keeping you up at night? Whether it's your back, neck, shoulder or anywhere else, our pain relief massage is the perfect option to reduce the tension that you're experiencing. Not only does this massage reduce tension, but it also increases circulation and releases toxins as well.
The good news is that if you're dealing with a nagging injury that will not go away, there is a solution for you that doesn't involve medication. If you are in the Golden Valley or Plymouth, MN area, our team at Advanced Medical of Twin Cities specializes in massage therapy techniques that help individuals dealing with all types of injuries. To learn more about our diverse and effective massage therapy services, give us a call today at (763) 541-1280.