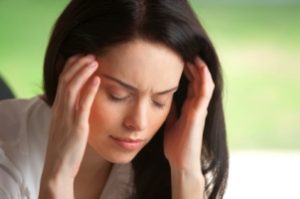 If you have experienced migraine headaches, you know the symptoms – light and sound sensitivity, intense headache (throbbing) and nausea are very common. Migraines are extremely common, impacting nearly 45 million individuals in the US. While you may know what causes your migraines, it can be extremely difficult to treat them. One of the keys is to try to catch a migraine headache early and avoid any triggers that you have like certain foods, alcohol and even stress. Millions of dollars are spent each year on over the counter and prescription medications to treat migraine headaches. It works for some, but not for others and can create what is known as a rebound effect, which means that the headache returns once the medicine wears off, encouraging you to take more medicine to try to reduce the pain and discomfort again and again.
Non-Invasive Headache Relief
If you have been searching for a non-invasive treatment option for your migraine headaches, you may want to consider chiropractic care. Chiropractic adjustments, massage therapy and acupuncture have been shown to reduce the prevalence of migraines and may work for you. The team at Advanced Medical of Twin Cities understands how debilitating headaches can be and will work closely with you to develop a treatment plan that addresses your unique health and has the best possible chance for success. The benefits of trying chiropractic treatment for your migraine and tension headaches include:
1. Treat the cause of your pain: Your chiropractor will do a thorough examination and determine whether the cause of your headaches is connected to an issue with your spine or not. Treating your unique health issue will reduce your headaches without relying on pain medicine.
2. Non-invasive treatment: Chiropractic adjustments, massage therapy and acupuncture are proven safe and effective for headache relief, and do not require the use of over the counter or prescription medications.
3. Healthcare team: When you work with the team at Advanced Medical of Twin Cities, you are connected with medical doctors, chiropractors, rehab therapists, and other health care providers that all collaborate to work for your benefit. Our staff works in one location and uses each other's expertise and perspective to provide the best possible care.
Minnesota Chiropractor Specializing In Headache Relief
Migraines and other headaches can be persistent and impact your overall quality of life. You do not have to deal with this type of pain on a regular basis. If you are ready to see if chiropractic treatment might work for you, give the team at Advanced Medical of Twin Cities a call at 763-541-1280 to schedule an appointment.