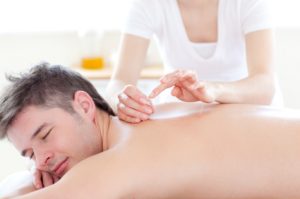 At Advanced Medical of Twin Cities, we regularly provide holistic care to those dealing with soft tissue injuries. Whether your injury occurred on the athletic field or it happened during a minor car accident in Minnesota, our team of experienced medical professionals are here to get you back to full strength.
The most common soft tissue injury that we address at Advanced Medical of Twin Cities is whiplash after a minor car accident. Whiplash is one of those soft tissue injuries that may not become obvious until a few days after the car accident. After being involved in a car accident, seeking immediate medical attention should be a priority, even if you don't feel injured. By seeking a medical evaluation quickly, our medical professionals at Advanced Medical of Twin Cities can pinpoint the soft tissue injury before things get any worse. From there, we can incorporate a customized treatment plan designed around a natural medical treatment regimen.
Other Common Soft Tissue Injuries
While whiplash after minor car injuries are our most common injury that we see our patients struggling with, there are plenty of other soft tissue injuries that we can help with. Through holistic care including chiropractic care, massage therapy and acupuncture, we are able to provide our clients with natural pain relief from a soft tissue injury without having to rely on pain medication or an invasive procedure. Other common soft tissue injuries that we regularly see at Advanced Medical of Twin Cities includes:
● Back and Neck Strains
● Carpal Tunnel Syndrome
● Bursitis
● Tendonitis
● Arthritis
Proven Holistic Treatment Options
At Advanced Medical of Twin Cities, we believe in individualized medical care. We are all different individuals, so it makes sense that creating a personalized holistic treatment plan can be extremely effective when treating soft tissue injuries. For some of our patients, a large focus of their treatment is chiropractic care. For others, we may focus more on massage therapy or acupuncture. What our team can promise is that we will do our due diligence to make sure that we identify your soft tissue injury early through our initial assessment. From there, we will create an individualized holistic treatment plan that is suited best for you specifically.
Whiplash Treatment after Minor Car Accidents
Finding the right medical team to handle your soft tissue injury rehabilitation is something that shouldn't be taken lightly. If you're in the Minnesota area, there's no better option than Advanced Medical of Twin Cities when it comes to natural medical treatment options. To setup your initial evaluation after a minor car accident or other situation, give us a call today at (763) 541-1280.