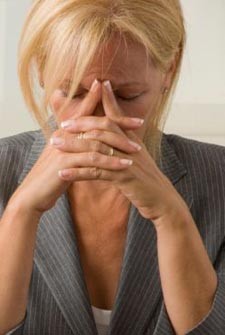 Doesn't it seem like life just keeps getting busier and busier? With so many obligations, just trying to navigate through the day can become stressful. If you find yourself struggling with stress on a regular basis, it is time for you to pursue stress remedies. Our team at Advanced Medical of Twin Cities has been providing natural stress remedies for individuals in Golden Valley, St Louis Park, Plymouth, Minnetonka & Edina, MN since 1981. Don't wait any longer! Come get a taste of what our medical professionals have to offer!
What's Behind Stress
Americans often think about stress in regards to how it affects you mentally, but it can also have an effect on your body in many other ways. Stress weakens your body due to anxiety, worrying and exhaustion. Stress can be stemmed from a unique experience you had or it can develop over an extended period of time. This causes direct damage to your nervous system, weakening your body overall. When stress begins to become a regular issue for individuals, tension throughout your body can occur. Additionally, your spine can become weakened and your posture may become altered as well. In turn, this stress can cause other issues that your body is left to deal with because of a weakened spine.
Symptoms to Look For
If you feel like your stress levels have skyrocketed lately, your body may have a stress disorder. To determine if you may be dealing with this disorder, sit down and think about whether or not these symptoms have occurred recently:
● Headaches
● Irritability
● Fatigue/Exhaustion
● Allergies
● Aches and Pains
● Trouble Sleeping
● Difficulty Digesting
How We Can Help
At Advanced Medical of Twin Cities, we take a natural approach when it comes to stress remedies. Our medical professionals offer diverse options including chiropractic care, massage therapy, nutrition assistance, and even acupuncture. These natural stress remedies will help strengthen your body and in turn reduce the stress that you find yourself dealing with on a regular basis.
If you are in the Golden Valley, St Louis Park, Plymouth, Minnetonka or Edina, MN areas and are struggling with stress, it is time to partner with our dedicated staff at Advanced Medical of Twin Cities. Let us help you receive relief from the daily stress that you've been struggling with. To learn more about our natural stress remedies or to schedule an appointment, give our office a call today at (763) 541-1280.