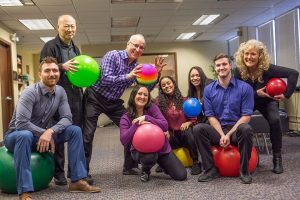 Advanced Medical of Twin Cities offers a comprehensive, team-oriented approach to your healthcare. What does the mean for you?  Well, it means that you can receive customized treatment for your health condition from a team of highly trained healthcare providers, all at one facility. You no longer have to schedule multiple appointments at different locations and spend days and weeks trying to chase down a diagnosis and treatment plan.  Your care is coordinated by your team of healthcare providers who can fully address your injury or condition.  We use chiropractic adjustments, traditional medicine, massage therapy, rehabilitation, acupuncture, nutrition remedies as well as traditional medical therapies to help you find the relief that you are looking for.
Comprehensive and Individualized Approach to Healthcare
Our patients come to our state of the art facility with many different symptoms including chronic pain, injuries after a car accident, fall or workplace injury, arthritis, fatigue and stress.  We understand that you may have been to several healthcare facilities looking for relief from your condition before finding Advanced Medical of Twin Cities.  When you come to our clinic, you will quickly find that you will really be heard. We will sit down with you, talk about your symptoms, your family history, your questions, and your goals for recovery.  We consider you a true partner in your healthcare.  We want you to understand the treatment plan developed specifically for you and you will have the opportunity to ask questions, share your concerns. Our goal is to give you the best possible chance for success and a full recovery.  When you are fully invested in your treatment plan, it is much more likely to be effective.
Achieve Optimal Health
The staff of Advanced Medical of Twin Cities is trained in the many aspects of healing. Working as a team means pooling our knowledge, experience and expertise to benefit each and every patient that walks through our doors. If you have been to other clinics and have not found the answers you were looking for, we are confident we can help you. We will leave no stone unturned when it comes to your health and helping you find relief.  In addition to a multidisciplinary, team approach, we offer convenient appointment times six days a week, including evenings.  We believe that optimal health and reduced disease risk are best achieved when medicine, chiropractic, exercise and nutrition are holistically combined to benefit our patients. For more information or to schedule an appointment, call us at (763) 541-1280.