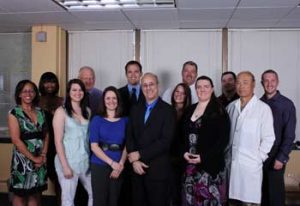 Workplace injuries are very common.  They can also happen to anyone in any type of work setting.  If you have been injured at your job recently or even some time ago, you can find relief and healing from Advanced Medical of Twin Cities.  Our medical staff possess the skills and training to treat any kind of workplace injury and help you get back to work and back to optimal health.
Recovery after a Workplace Injury – Seeking medical care following a workplace injury is vital, and Advanced Medical has been the right match for many people who have suffered workplace injuries.  We work hard to really listen to our patients.  We listen to your account of the workplace accident, your symptoms and any treatment you have already completed. We develop a personalized treatment plan that fits your symptoms and will help you find the relief you are looking for.  We understand that our patients are often the greatest source of wisdom about the causes and effects of their workplace injuries.  We are trained to diagnose and treat your injuries using medical care, chiropractic treatment, massage therapy, acupuncture and rehab therapy.
Common Types of Workplace Injuries
Advanced Medical of Twin Cities is able to treat a wide variety of workplace injuries incurred by people on the job.  Though it would be impossible to list every kind of workplace injury that we are able to treat, some of the more common injuries are listed below.
Repetitive motion injuries: If your job includes repetitive motions, you are susceptible to injuries that result from overuse of muscles. Carpal tunnel syndrome affects people who do a lot of typing, for example.  Repetitive motion injuries can also occur on assembly lines, food preparation, and other activities that are characterized by repetition.
Impact injuries: You might have struck your head on a low-hanging object or hit your knee on the corner of a desk. Or you might have been struck by a book falling off a bookcase or a box falling off a high shelf.  Impact from heavy objects can limit your mobility or cause fractures and concussions.
Tripping and falling injuries: If your job involves climbing ladders, you know that there is a danger of falling. But even if you work in a more typical office setting, it is still possible (and common) to turn an ankle on an uneven sidewalk or root of a tree.
If you are dealing with the aftermath of an injury incurred at work, we can certainly help you get back to your pre-injury state. To schedule an appointment with the workplace injury team at Advanced Medical of Twin Cities, call us at (763) 541-1280.