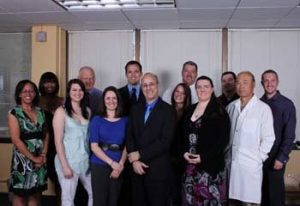 Advanced Medical of Twin Cities offers the comprehensive services of medical doctors, chiropractors, rehab therapists, and other health care providers who work together (in one location) to help you achieve optimal health. Our practice is based in Golden Valley, Minnesota, and we serve individuals from many communities, including, Golden Valley, Plymouth, and Minnetonka, MN. Advanced Medical can treat you for virtually any chiropractic issue, and one of our specialties is treatment of injuries caused by car accidents. Whether you are dealing with back injuries, whiplash, headaches or other problems that occur with car accidents, the staff of Advanced Medical can help you.
Comprehensive Treatment for Back Pain After An Auto Accident
Advanced Medical offers a wide variety of treatments. If you have missed work as a result of a car accident or injury, Advanced Medical can help you recover so that you can return to your job. The classic cause for pursuing chiropractic treatment is a lower-back injury cause by a car accident. If you have been in a car accident and suffer from lower back pain as a result, Advanced Medical can help you begin to feel relief. Even minor car accidents can create significant issues, so please do not think that the only legitimate reason for contacting us is if you have been in a bad accident. People who have been in minor fender benders can be jostled such that they end up feeling real pain, and we can help.
Our staff can help you understand the problems caused by your car accident and identify the best strategies for treating them. With a staff of highly trained professional practitioners based in Minneapolis, Advanced Medical of Twin Cities can provide relief to the ailments that are disrupting your life to whatever degree they are impacting it.
Find Relief After A Car Accident
When we suffer a physical trauma such as a car accident, what we actually experience is a ripple effect of trauma, which is experienced as an injury to one obvious part of our bodies. But the injury can originate in another part of the body that is not so obvious. If you have had the misfortune of suffering such an accident, you might well have experienced that ripple effect of injury. It may be that as a result of the accident you feel pain in your lower back, but actually discover that the injury is located elsewhere. Our staff is able to treat the symptoms of the pain caused by that kind of trauma, but they are also able to identify and treat the points of origin of the pain.
If you have been in a car accident, contact us for an appointment by calling (763) 541-1280. Our team will help you recover and return to your pre-accident condition.