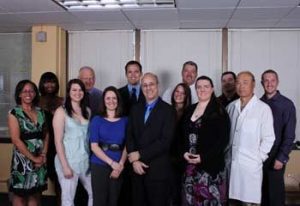 Struggling with lingering pain that will not seem to go away? Have you recently been involved in an auto accident? Did your child get injured during their team's athletic event recently? When it comes to managing the pain you are experiencing, pursuing a holistic approach is ideal. What good is relying on pain medication for your relief? Pain medication is a temporary solution that does not help the underlying issues that your body is dealing with. Chiropractic care on the other hand, is extremely effective in providing individuals with natural pain relief. If you are in the Golden Valley, Minnetonka or Plymouth, MN area, Advanced Medical of Twin Cities has some natural solutions for you. Don't waste any more time as our chiropractic clinic in Golden Valley is eager to assist you with your natural pain management options.
Experienced Chiropractic Team
At Advanced Medical of Twin Cities, the combined experience of our staff is a core reason that our chiropractic clinic in Golden Valley has been so successful. Our team has over 100 years of combined experience making individuals healthy the right way. Not many clinics in the area can match our experience and commitment to clients. We have a state of the art facility and focus on utilizing a team approach when it comes to patient care. We are happy to incorporate doctors, rehab therapists and other health care providers with our chiropractic staff to ensure that you are getting the best care possible. While serving the Golden Valley, Minnetonka, Plymouth and the surrounding area since 1981, we've seen patients leave our practice in totally different spirits than the first time they entered our chiropractic clinic. Seeing our patients experience natural pain relief through chiropractic care is what it's all about!
Holistic Care
By focusing on spinal adjustments and manipulations, our chiropractors are able to naturally get your body back into proper alignment after an injury. We care for patients struggling from a wide range of health scenarios including but not limited to the following:
● Arthritis
● Headaches
● Pregnancy
● Work Injuries
● Stress
● Sports Injuries
● Auto Injuries
If you or someone in your family has been struggling with a nagging injury or has recently gotten injured, it is time for you to take the proper steps to take care of your body. Say no to pain medication and say yes to chiropractic care. As a chiropractic clinic in Golden Valley, we believe that you'll experience natural pain relief like never before. If you are in the Golden Valley, Minnetonka or Plymouth, MN area, give our chiropractors at Advanced Medical of Twin Cities a call today at (763) 541-1280 to set up an appointment with our experienced staff.