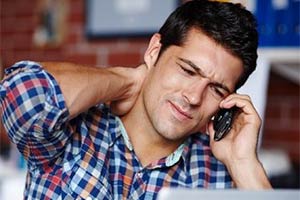 Almost all Americans struggle with stress on a regular basis. Whether it is your job, school, or a struggling marriage that is causing you stress, it's never easy managing stress on your own. Being able to open up and admit that you may need some help managing your stress is a tough task on its own. The good news is that our team at Advanced Medical of Twin Cities is here to help you manage your stress naturally. We aim to get our MN clients back to living their life where the stressful situations that they are dealt don't negatively impact their daily lifestyle.
Stress Impacts the Body Physically
It may seem like stress is all mental, but the truth is that if stress is something that you are dealing with regularly, it can have a negative impact on the body as well. Anxiety, worrying and exhaustion all stem from stress. In turn, these situations can lead to a weakened nervous system. This stress overload can cause added tension in your body and may even impact the posture of your spine. Our patients regularly come to our staff seeking relief from a variety of symptoms caused by stress. These common symptoms that we see in our patients struggling with stress include:
Headaches
Fatigue
Irritability
Digestive Issues
Allergies
Aches & Pains
Poor Sleep Habits
Many More!
Holistic Stress Relief Is A Real Option
You may be wondering how our medical professionals can help you with your ongoing stress. Through chiropractic adjustments and massage therapy services, we proudly offer holistic stress relief that will get your body back into proper working order. Our chiropractic adjustments will help get your spine back into proper alignment, which will reduce the tension you are likely experiencing. Additionally, our massage therapy services can provide you stress relief both mentally and physically. The best part is that our services are based on holistic methods that help your body recover naturally.
It's important to know that you are not alone in your journey of managing stress. If you feel like stress has taken over your life, there are resources to help you grab a hold of your health. At Advanced Medical of Twin Cities, our dedicated medical staff is eager to create a personalized stress relief treatment plan just for you. Serving the MN community, give us a call today at (763) 541-1280 to learn more about our effective stress relief services.