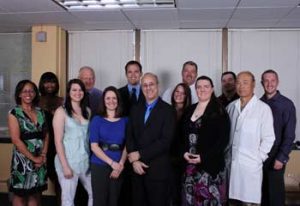 When it comes to your family, the health of each person should be a top priority. Whether you have a toddler, child involved in sports or a spouse that has nagging pain, investing in chiropractic care for your family is a great way to gain natural pain relief and to strengthen your body back to its full strength without having to rely on surgery or pain medication. Serving the Golden Valley, MN area, look no further than Advanced Medical of Twin Cities for your natural family chiropractic care.
Holistic Approach to Medicine
At Advanced Medical of Twin Cities, we're not your average medical practice. We offer a wide range of medical care centered around a holistic approach to medicine. Each patient gets their own personalized treatment plan focused on chiropractic care, quality exercise, nutrition and other treatments such as acupuncture and massage therapy. Thanks to our team approach to medicine, you will not get thrown around from doctor to doctor like some other medical practices do in the Golden Valley area.
Family Chiropractic Care
There will be times in your life when the unexpected occurs. You and your family may be involved in an auto accident where some minor injuries occurred. One of your children may get injured while playing sports for their school. Whatever the reason is that you or your family member needs to be seen by our staff, you'll get our undivided attention the minute you enter our practice doors. At Advanced Medical of Twin Cities, we want you and the rest of your family to be healthy! Through spinal manipulations and adjustments, we'll help get your body back to full strength naturally. Misalignment of your bones, muscles and joints can be a key contributor to the pain you've been experiencing. That is where our family chiropractic care comes in handy! No matter the age, our chiropractic care is an effective way to address the pain or injuries that you may be dealing with.
Chiropractic Services Golden Valley
Chiropractic care isn't the only thing that you can take advantage of by partnering with our staff at Advanced Medical of Twin Cities. Other ways that we can provide you and your family natural pain relief is through our effective acupuncture and massage therapy options. This may be something that our medical professionals recommend after you utilize our chiropractic treatment.
So, if you are looking for a provider in Golden Valley, MN that can provide your family with natural relief from an injury or pain, look no further than Advanced Medical of Twin Cities. To learn more about our natural family chiropractic care, give us a call today at (763) 541-1280.