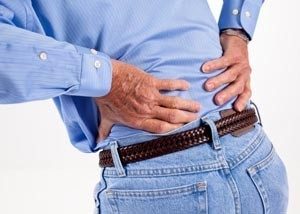 At Advanced Medical of Twin Cities, we are committed to help you and your family achieve optimum wellness. Unfortunately, an injury or problem like lower back pain can cause your overall health to deteriorate. Therefore, no pain should ever go unnoticed but rather placed out in the open to allow for healing. At Advanced Medical of Twin Cities, our philosophy is to provide our patients with the highest quality healthcare in a friendly atmosphere. If your lower back is giving you pain, let our trained professionals here at Advanced Medical of Twin Cities help you heal and get you on the right path back to optimum wellness.
Lower Back Pain Problems
Back pain happens to be the most frequent cause of limited activities for people under age 45. It is also one of the top reasons why people find themselves unable to perform at work. Your back is composed of tendons, nerves, muscles and your spine. Without every single element functioning properly, your entire body can go into disarray. Many providers will invasively treat your back pain with sedative medications or even extreme measures like surgery. At Advanced Medical of Twin Cities, we work to find the root, or exact cause, of the problem and remedy your lower back pain with the proper treatment it needs. There are many causes of lower back pain. From simple overexertion issues to trauma and unhealthy spinal discs, no matter what happened to your lower back pain, we are here to allow for the healing process to begin.
Lower Back Pain Treatments
At Advanced Medical of Twin Cities, we house medical doctors, chiropractors, rehab therapists, massage therapists and other prominent health care providers. Our vast and incredibly knowledgeable team allows us all to work together for your benefit. In our state-of-the-art facility, we utilize this team approach to give you the best possible care. Injury rehab is a great place to start. We provide a full evaluation by a medical doctor and a chiropractor. This allows us to look at every aspect of your pain and injury and determine the best approach to move forward. Through an individualized stretching plan, a specialized strengthening program, rehab and massage and acupuncture as needed, we are confident we can help to get you on the right path to healing and wellness.
For more information about our services in MN and how we can aid in your lower back pain, give us a call today. Call Advanced Medical of Twin Cities for a full list of our services and to make your first appointment with our experts on lower back pain. Contact Advanced Medical of Twin Cities today at (763) 541-1280.