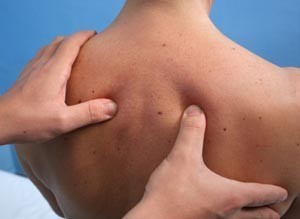 Dealing with regular pain can be overwhelming. If you are ready to put down the pain medication and pursue a more natural approach to your pain, massage therapy is a wonderful way to begin. Not only can massage therapy be relaxing, but it can help improve your body's overall strength as well. At Advanced Medical of Twin Cities, we provide the St Louis Park, MN area with certified massage therapy services. Our massage therapists are eager to help you experience natural pain relief holistically.
Wide Range of Benefits
Many people just think of massage therapy as a relaxing massage that gives your mind and body a break from your daily stress. While massage therapy can definitely help reduce stress both mentally and physically, it also provides other benefits as well. Some of the various benefits that massage therapy can provide include:
● Muscle Spasm Reduction
● Enhanced Body Circulation
● Boost in Lymphatic Drainage
● Calm and Balanced Nervous System
● Muscle and Joint Pain Reduction
● Heightened Energy
Personalized Massage Therapy
One massage technique may work for one patient, yet be ineffective with another. That is why our massage therapists spend so much time getting to know our patients. We create a personalized massage therapy regimen, built specifically for each patient, based on various massage therapy techniques that can be performed. Through a quick and easy massage therapy consultation, our massage therapists will create a plan designed to strengthen your body and reduce chronic pain that you are experiencing. A few of the massage techniques that we can provide our clients include:
● Sports Massage – Many of our clients in the St Louis Park area come to us for relief after a sports injury. Massage therapy can not only help reduce the pain you are experiencing, but it can also help you get back on the playing field more quickly!
● Injury Rehabilitation Massage – Often times, injuries are unexpected. If you've recently been injured in an accident, the quicker you set up a massage therapy session with our team, the more quickly your body will get back to full health.
● Therapeutic Massage – If you have been dealing with regular pain in a certain area of your body, our therapeutic massage may help provide pain relief. Our massage therapists will focus on the damaged area to help provide natural therapeutic relief.
Pain medication only masks the issues that you are dealing with. If you live in St Louis Park, MN and are ready to take a more natural approach to pain relief, it is time for you to partner with a massage therapist from Advanced Medical of Twin Cities. To schedule a massage therapy appointment, give us a call today at (763) 541-1280.