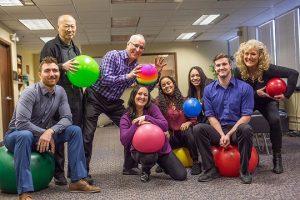 Advanced Medical of Twin Cities is a trusted Pain Rehab Clinic in Golden Valley, Minnesota. Our staff are highly trained professionals who help many local clients make progress toward living a life with reduced pain and, in many cases, help them live pain-free. Our clinic operates on a model that combines cutting-edge chiropractic care, advanced nutrition, acupuncture, and massage. We work with our clients on an individual basis to develop a treatment plan that addresses each of their specific needs. Our approach is not only individualized, it is comprehensive.
Treating the Source of Your Pain
Traditional medicine often begins treating pain with over the counter medicine. This can help an acute injury and provide temporary relief. Unfortunately, these types of treatment tend to mask the pain but do not actually treat the underlying issues that are causing the pain. Advanced Medical of Twin Cities seeks to achieve more than temporary pain relief for our clients. We want our clients to return to full health, regardless of the cause or causes of their pain, so we place emphasis on pain rehabilitation. Whether you are experiencing pain that is the result of a sprained ankle and are confident that the pain will lessen or disappear relatively soon, or you are suffering through prolonged pain from a condition like arthritis, we can help you.
Pain rehabilitation works best when it addresses more than just the outward symptoms and gets to the underlying causes. If you have an acute injury or a more chronic illness, our highly trained staff will work with you to identify the most effective treatment plan. The pain you are currently feeling will soon be a thing of the past. Furthermore, by addressing the root of the issue rather than just the symptoms, you have a better chance of fully recovering from the condition and preventing it from returning. Our team can help with lower back pain, pain after an auto accident, headaches and/or migraines, sports injuries and much more.
Comprehensive Pain Treatment in Golden Valley, Minnesota
The combination of chiropractic care, massage therapy, and acupuncture are ideal means of addressing immediate and ongoing pain. Adding in nutritional upgrades further empowers your body's natural healing abilities and helps you attain greater overall health. If you live in Golden Valley, MN and have any questions or would like to schedule an appointment with us, call Advanced Medical of Twin Cities at (763) 541-1280.