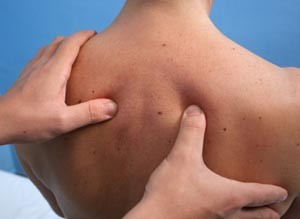 Have your aching muscles been holding you back from the things you enjoy most in life? Who says you have to continue living life in pain? The unfortunate path that many people dealing with muscle pain take is becoming reliant on pain medication. While this can provide temporary pain relief, it does nothing to address the actual issues that you're having. It is time for you to take a different approach towards muscle pain relief. If you are in Golden Valley, MN or the surronding areas, our dedicated staff at Advanced Medical of Twin Cities has a passion for providing muscle pain relief to members of these communities.
Take the Natural Approach
The only way that your body is going to strengthen and heal is naturally. For that reason, that is where our medical team applies our focus. Finding ways to help provide muscle pain relief naturally is one of our key goals. Thanks to our diverse backgrounds and professional experience, we've placed our focus on three key areas to help provide our patients muscle pain relief. These areas include:
● Acupuncture – Going back to Traditional Chinese Medicine (TCM), acupuncture has been used to provide muscle pain relief for thousands of years. Anything that has been around for that long has to be effective! Through placing tiny needles in specific areas of the body, your muscles will begin to heal and restore their strength.
● Chiropractic Care – If your spine is out of alignment, other muscles in the body can be in pain. Our dedicated chiropractors focus on spinal manipulations and adjustments to bring your spine back into alignment. In turn, you'll experience muscle pain relief as well!
● Massage Therapy – While some people use massages as a way to relax, Advanced Medical of Twin Cities utilizes massage therapy to help provide muscle pain relief. Massage therapy can help relieve stress, reduce pain, improve circulation and reduce muscle spasms. Often times, we'll combine massage therapy with acupuncture or chiropractic care to create the ultimate treatment plan.
At Advanced Medical of Twin Cities, our end goal is to provide muscle pain relief for our patients. We help patients dealing with pain stemming from a wide range of situations including:
● Sports Injuries
● Automobile Accidents
● Arthritis
● Work Injuries
● Headaches
Life is too short to continue dealing with muscle pain on a daily basis. If you are ready to take a holistic approach towards muscle pain relief, Advanced Medical of Twin Cities is here to help! Serving Golden Valley, MN, give us a call today at (763) 541-1280 to set up an appointment with our experienced staff.