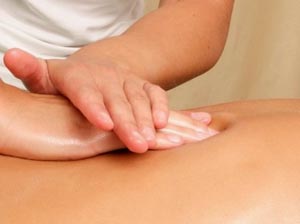 Massage therapy is just one of the chiropractic care services we provide at our chiropractic clinic, but it's a treatment method with proven results in relieving pain and promoting faster injury recovery. If you're looking for a way to relax or ease your pain, or if you believe you could benefit from massage therapy in another way, Advanced Medical of Twin Cities is the place for you. Our Golden Valley, MN massage therapists have worked with patients suffering from a range of ailments, conditions, and pains, and we've become experts in diagnosing and treating patients who come to our clinic seeking relief and relaxation.
Benefits of Massage Therapy
While you might already be familiar with some of the benefits of massage therapy, you might not realize just how much of your body and mind massage therapy can positively affect. Because massage therapy is able to target many of your body's systems, including the muscular, nervous, circulatory, respiratory, immune, and lymphatic systems, by using massage therapy, we are able to treat ailments and conditions that are negatively impacting these systems. That means that massage therapy can increase range of motion, improve circulation, decrease swelling, relieve pain, reduce muscular and nervous tension, and much more!
Injury Rehabilitation Massages
Massage therapy is often a crucial part of our injury rehabilitation services, helping to relieve pain and tension that is caused by several types of injuries we treat, including:
• Work injuries and repetitive stress injuries
• Sports injuries
• Auto injuries, including whiplash
• Personal injuries
If you're suffering from the effects of any of these types of injuries, we'll carefully evaluate your injury to determine whether injury rehabilitation massage therapy can help to heal or promote healing.
Sports Massages
Sports massages are used for both sports injuries and for improving sport performance. With sports massages, we're able to provide all of the benefits of massage therapy, including increased range of motion and circulation, reduced swelling, decreased stress in the muscles and nerves, and more – all of which can help to improve your body's performance. With better movement and a more relaxed body, many athletes find that sports massages can help to enhance performance in the short and long run.
Therapeutic Pain Relief Massage Therapy
If you've ever had a massage – even an amateur massage – you likely understand the immediate physical benefits of massages, but you might not know just how beneficial relieving tension can be. When you're mentally or physically stressed, your body will bear all of the weight of that stress, leading to pain throughout the neck, back, shoulders, and extremities. To combat this tension and relieve pain, massage therapy can be used alone or in conjunction with other chiropractic care treatments intended to relieve stress and therefore relieve pain. If you believe you could benefit from massage therapy with Advanced Medical of Twin Cities, contact our Golden Valley, Minnesota massage therapists today at (763) 541-1280 to schedule an appointment for a sports massage, injury rehabilitation massage, or therapeutic pain relief massage